Young Designers Dismantle Cultural Stereotypes At Nigeria's Arise Fashion Week
When Nigerian-born, Austrian-raised designer Kenneth Ize first stumbled across YouTube videos showing the runways of Arise Fashion Week, he was in his first year at university in Vienna. "I wanted to see if there was anything like an African fashion week – or even African fashion, because all I knew was that there were tailors – as many of them here as there are Starbucks in other places," he recalls over lunch in the sticky Lagos heat. "Then, I came across Arise and immediately I thought: this is what I want to do if I ever have a brand." In the few short years since, he's come full-circle: at the sixth incarnation of the continental fashion showcase held in Lagos, the LVMH Prize nominated designer was awarded the Designer of The Year Award for his exceptional incorporation of traditional textiles into his boldly contemporary aesthetic.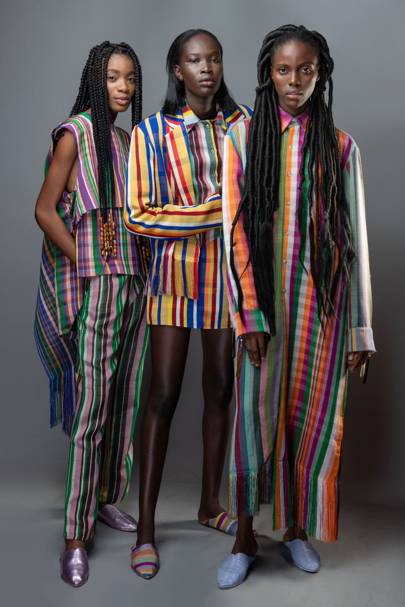 Overblown, saturated lace that pays homage to both his Nigerian and Austrian upbringing; artisanal weaves transformed into louche, modern tailoring; pleated fabrics sculpted with an easy elegance – Ize's ability to modernise heritage fabrics and place them within a fresh context is remarkable. This season, modelled by
Naomi Campbell
, Alton Mason and
Liya Kebede
on the Arise runway, they appeared profoundly relevant.
As the African fashion industry takes its long-overdue place on the global stage, Ize is at the forefront of a wave of change transforming the way the world sees the continent. "It's made me realise: this is the path, this is the way it should be," he smiles. The £20,000 he was awarded as part of that prize is, he explains, going towards building a school in Ilorin for the children of the northern Nigerian female weavers he employs to make his fabrics. Up until this week, he was planning on using the money he had been paid in sales deposits to fund its initial stages. When I ask him about it, he burst into tears. "I started this brand just three years ago with a Go Fund Me page… and I can't believe it," he says. "I am just so grateful for this, for all of this. To be able to do this. It's incredible."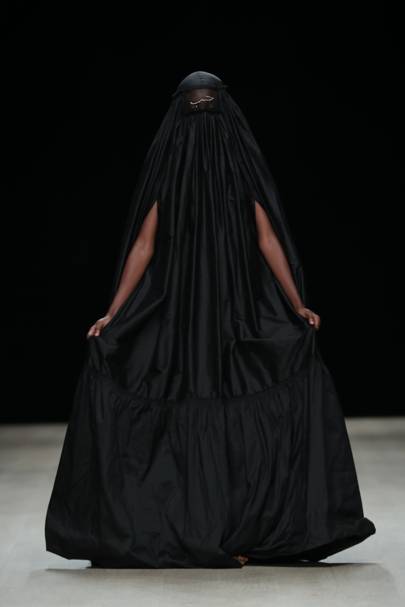 MAISON ARTC, COURTESY ARISE
That is one of the most exciting elements of the Nigerian fashion scene: that it is offering opportunities for both local and diasporic designers to author their own narratives and build their own infrastructure within an industry that has often either appropriated their culture or overlooked it entirely. While long-established brands like Tiffany Amber and Lanre Da Silva showcase as part of Arise's programme, it is the new generation of talent who appear most determined to shatter stereotypes. Maison Artc's opening look – a woman dressed in a couture-grade burka, shown as part of a collection that reworked vintage textiles into deconstructed modernity – appeared on the cover of the
ThisDay Style
newspaper over Easter weekend, in a country divided between Christian and Muslim faith – while one of London's guest designers, Asai, sent out a capsule collection of his hot wok creations on a cast of models that included Ms Carrie Stacks.